Mai Chau
Mai Chau
is a beautiful valley at the foot of the Thung Khe pass, 140 km northwest of Hanoi. It is the country of Thais ethnic groups, who live in small villages and live in houses on stilts.
The valley is attractive with its poetic landscapes, terraced rice fields, Thais peoples with their own culture and special gastronomy. Visiting Mai Chau, travelers can sleep at the inhabitant's house, in houses on stilts, it is the opportunity to immerse in the local life of the Thais people. There are also comfortable lodges in the middle of the greenery for those who desire total relaxation.
Favorite activities in
Mai Chau
:
hiking or cycling through terraced paddy fields, visit the market, visit the daily life of the Thais peoples and their crafts.
The well known villages in Mai Chau: Lac village, Poom Coong village, Van village, Nhot village. Also, further towards the bottom of Mai Chau valley, you will meet the very quiet villages such as Buoc village, Mai Hich village ...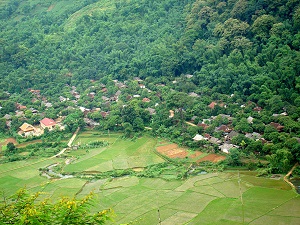 Climate
Mai Chau is influenced by tropical climate and mountain climate. There are 2 distinct seasons:
- The rainy season from May to October, especially between July and September when the rains are more abundant. During this period Mai Chau is also influenced by thunderstorms and very dry winds from Laos.
- The dry season is between November and April of the following year. It is also the best season to visit Mai Chau. It is cool and has little moisture. It can get very cold in January.
How to get there
The bus is the most convenient means of transport. From Hanoi you will arrive to Mai Chau after 3.5 hours.