Customer review
---
"…You are efficient and very attentive and I particularly appreciated your kindness and the cultural and human quality of your guides and organizers, whether in hotels or on excursions…"
Mrs Daniele GALIPAUD
---
"Hi Luyen,
…
We really enjoyed our stay thanks to you, everything was perfect: the families that welcomed us, the villages we stayed in, even the driver was perfect!
Thank you very much for all the organizing you did for us
Faustine finally got used to eating Vietnamese, she also liked to sleep in nha san. I think this trip will really be a good experience for her.
See you soon'' –
Mathilde
---
"Hi Luyen,
We just wanted to say a huge thank you to you for making our trip in Vietnam most enjoyable. Everything was perfect, guides and drivers were very helpful and friendly.
Once again thank you
Very good day!
Best wishes and regards," –
Mr & Mrs VANDEVOORDE
---
"Dear Dominique,
Thank you for organizing such a wonderful tour in Vietnam, your kindness, your good humor. Would definitely come again and will recommend your company to my friends.
Thank you again " –
Mrs Catherine LA JOYE
---
"Hi Dominique,
We appreciated your professionalism, your clear explanations, your knowledge of the history and the country life. In addition you were attentive to all our needs and available for all our trip.
Excellent service from the driver also. A huge thank you to you."-
Claudine
---
"… We had a great time in Vietnam. Perfect organization, excellent understanding between us and the guide, pleasant human relationship and easy contacts..." -
Corinne and Jean François
---
"Good evening Luyen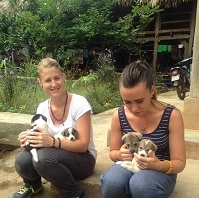 Thank you for your reply and for your attention. We had a great tour with attentive people who take good care of us. Thank you for this wonderful trip. You have done an extraordinary job and I recommend you to my friends who are coming very soon.
Thank you again for everything as well as the gifts that touched us a lot.
Best wishes and regards," –
Ms Marion CAUQUIL
---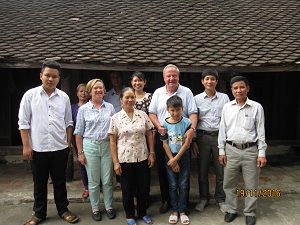 "Dear Dominique and Marie,
We do not want to wait any longer to tell you how much we were delighted with our trip to Vietnam and to thank you very much for your warm welcome, kindness, availability and all the energy you have spent on the total success of this trip .
We were very sensitive to your delicacy through your little gifts and this delicious dinner at home before our departure which enclosed our stay beautifully.
We also thank you Dominique for organizing the visit to our godchilds families who welcomed us with such kindness.
We embrace you." -
Pierre-Yves and Laurence
---
"Hi Luyen
We have arrived home.
We had very good times with Dominique, he made us laugh a lot.
Thank you for taking care of us, everything went smoothly and we were not sick during our trip.
Thank you again" – Mrs Tu Anh PHAN